Our Story
Nigh Nigh is a sleep-wear & bed-linen brand, weaving sweet dreams into reality using the softest, highest quality cotton, made ready for pillow-fights and happy bedtime tickles and giggles. Our designs are created in-house, with the most imaginative inputs and feedback from kids and teenagers.
Sleepwear
Nigh Nigh brings you a wide range of colourful, cute prints in nightwear for all ages and bed linens for children. Created using the finest, most luxurious spins of cotton.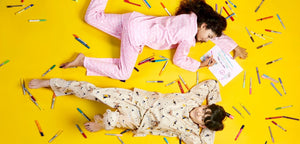 At Nigh Nigh, our mission is to sprinkle your bedtime with magic, snuggles, warmth and comfort.
Craftsmenship
Made using the most luxurious spins of cotton, vibrant colours and chic styling our nightwear looks cool in addition to being super comfortable. And for the cherry on top, our garments are stitched to a comfortable fit!
Unparallel Quality
Durable soft cotton, sturdy stitching and a promise of uniquely cute and awesome designs deliver joy with every piece of product you purchase.When we say high quality, we mean it.
Caring for our planet
We source our 100% BCI cotton fabric which requires 14% less water consumption from Morarjee Textiles, a leading name in sustainable cotton cultivation. With each Nigh Nigh product you purchase, you show our planet the love and care it deserves.
Founders
Our founders, Roopali and Swati, have been friends since their kindergarten years. Growing up with different skills and education in life - Roopali, a chartered accountant with a prestigious bank and Swati, a visual communication artist with a degree from The American College in London - didn't stop them from coming together to share a common dream.
As young mothers, their love for all things vivid and a keen desire to have the softest, most premium cotton bed linen and sleepwear for their children had them looking for cute pyjamas and linen from various places in India and around the globe. They believed that it was realistically possible to create this charming linen at home itself, here in India! Like women on a mission, they set their minds towards turning this dream into a reality.
As a way to share this passion with parents and parent figures around the world who are looking for nothing but the best for their children, Nigh Nigh was born.
A new creative outlet of Swati and Roopali's endless, vibrant imagination, Nigh Nigh is a figment of fairies and fables, of the tales of fantasy lands far away beyond the clouds, an element of love and fuzziness that spreads warmth and joy everywhere.